Voices of the Nez Perce Tribe
Below are some featured articles about the Nez Perce Tribe, as showcased in Idaho Magazine, showcasing the rich history and culture of the Nez Perce Nation.
Return Of the Captives
How the Nez Perce Rallied America and Rescued their Heritage
by Trevor James
On Saturday, June 27, during a Nez Perce (Niimiipuu) ceremony in Spalding that included a horse parade, drumming, singing, and speeches, my wife Robin and I were in tears. We had just witnessed a celebration of the renaming of the most remarkable ethnographic collection in Idaho, which had been taken from the tribe 174 years earlier. 
In 1847, the missionary Henry Spalding shipped an array of Nez Perce items to a friend and benefactor in Ohio. It remained in that state for more than 130 years, when most of it returned to Nez Perce country on loan. And then in 1996, the Nez Perce Tribe mounted a sophisticated fundraising campaign that garnered $608, 100 to enable the purchase of the collection from an Ohio museum. Finally, on this day in June, after careful deliberation, the tribe had commemorated the twenty-fifth anniversary of buying back the Spalding-Allen Collectin by renaming it Wetxuuwiitin', which translates to "returned after period of captivity."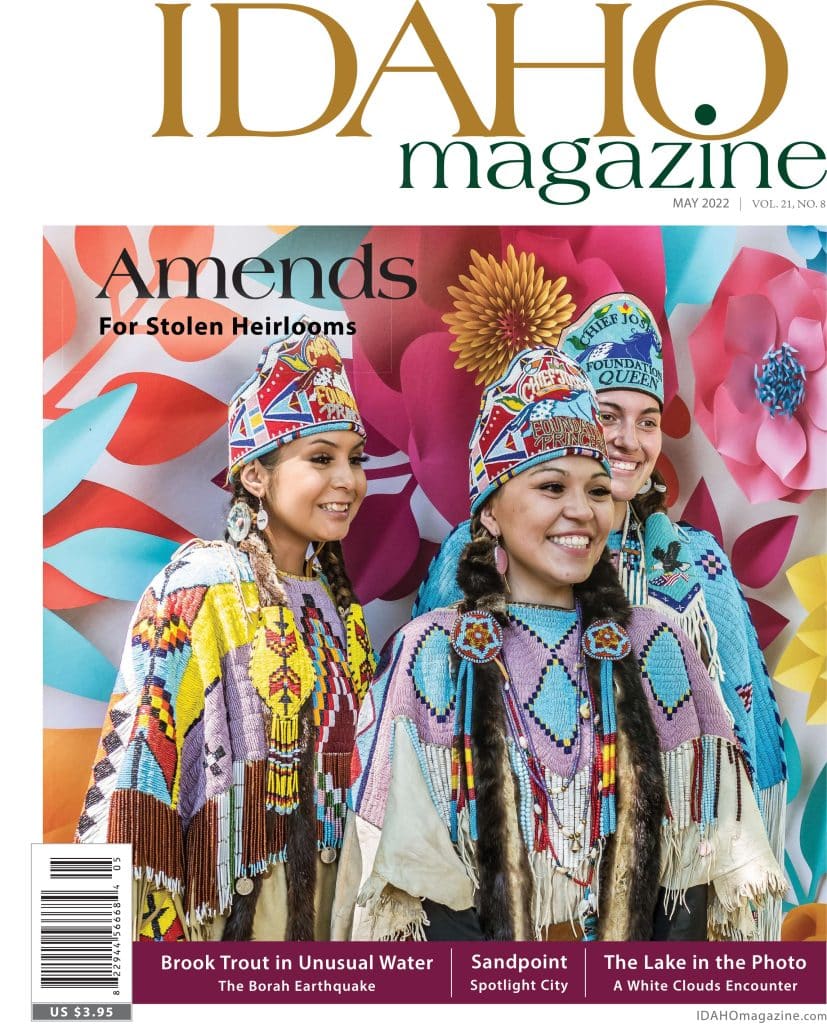 Amends
Twenty-Five Years Later
by Trevor James Bond with Nakia Williamson-cloud
There was snow on the Palouse and rain in Lapwai on a morning last November 23, when Nakia Williamson-cloud and I climbed into this SUV. Our ride was short, from his office at the Nez Perce Tribes Cultural Resources Program to the chamber rooms of the tribe's executive committee. At the entrance, we checked our temperatures in deference to COVID-19 issues and then waited, full of anticipation, to be called into a room where a delegation of Ohio was about to do something unprecedented: return $608,100 to the tribe. 
This was the amount the Nez Perce had paid to the Ohio Historical Society in 1996 for the Wetxuuwitin' collection (formerly known as Spalding-Allen Collectins), the oldest, best-preserved, largest, and most-documented assembly of Nez Perce (Niimiipuu) material culture anywhere in the world. 
People &
Community
Wisteqn'eemit works to develop a strong organizational structure in order to benefit quality of life for Nez Perce Tribal members and their communities; Tribal sovereignty is respected in all Wisteqn'eemit efforts; Wisteqn'eemit encourages giving and sharing among Tribal members.
Arts &
Culture
Wisteqn'eemit supports activities to benefit Tribal arts and tradition, past and present; Tribal arts and culture are respected in all Wisteqn'eemit efforts; Wisteqn'eemit encourages a deep cultural connection among Tribal members.
Nature &
Environment
Wisteqn'eemit supports projects to benefit our natural resources; the environment and its abundant resources are respected by Wisteqn'eemit efforts; Wisteqn'eemit encourages a strong sense of place among tribal members.